AMERICA NEWS NOW |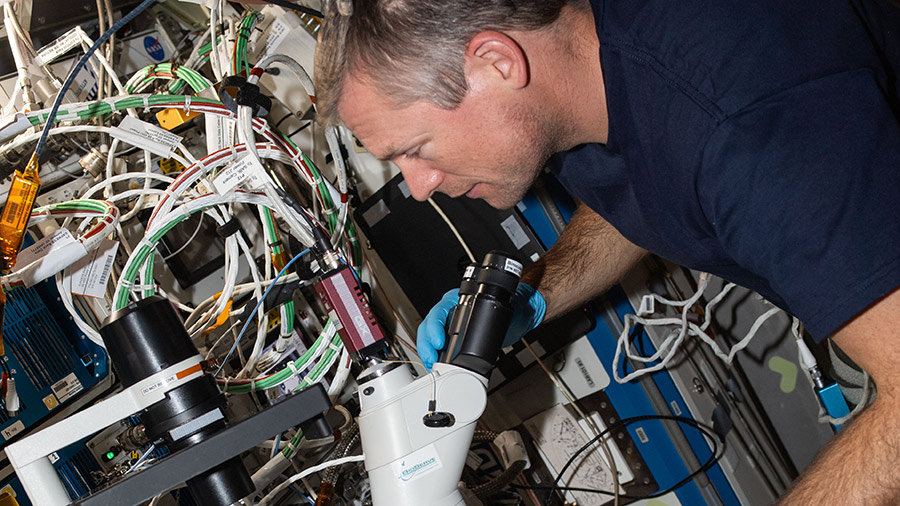 Astronaut health, an aging study, and cargo operations kept the Expedition 70 crew busy on Tuesday. The International Space Station residents also explored space manufacturing and downloaded radiation data.
Scientists representing NASA and its international partners are collecting a multitude of physiological and psychological data from crew members living on the orbital outpost. The observations from the CIPHER suite of 14 human research experiments will help researchers and mission planners understand health issues astronauts may face on future missions. Insights from the space biology study will be especially useful when crews begin traveling longer and farther away from Earth toward the Moon, Mars, and beyond.
NASA astronaut Loral O'Hara spent most of Tuesday contributing to the CIPHER study processing blood and urine samples and participating in a cognition test. She processed the samples in a centrifuge and stowed them in a science freezer for later analysis. Results from the sample analyses and cognition tests will help doctors and astronauts prepare for long-term radiation exposure, isolation, extreme distances, and closed environments.
Aging is a key research topic aboard the space station as researchers study microgravity's affect on brain cell-like samples. NASA Flight Engineer Jasmin Moghbeli was busy during the morning treating some of those samples inside the Kibo laboratory module's Life Science Glovebox. The Cerebral Ageing study may provide insights unachievable on Earth into accelerated ageing symptoms, neurodegenerative diseases, and hypersensitivity to ultraviolet radiation on a molecular level. Results may promote advanced health treatments on Earth and in space.
Morale is also a very important characteristic to ensure mission success during long periods in deep space. Scientists are exploring the hypothesis that virtual reality experiences onboard a spacecraft may lead to less stress and greater mental relaxation. Commander Andreas Mogensen from ESA (European Space Agency) took part in that study today, VR Mental Care, wearing VR goggles and a controller, and watching a 360-degree movie to understand its stabilizing effect on the nervous system.
Astronaut Satoshi Furukawa from JAXA (Japan Aerospace Exploration Agency) worked inside the SpaceX Dragon Endurance crew spacecraft checking orbital plumbing gear with assistance from Mogensen. In the Harmony module's port adjacent to Endurance, Moghbeli worked on cargo transfers inside the Dragon cargo spacecraft as O'Hara photographed some of the specially delivered gear.
3D printing in space is critical as crews traveling farther in space will be less dependent on cargo missions launched from Earth. Veteran cosmonaut Oleg Kononenko printed test samples in a 3D printer to learn how to manufacture tools and supplies on demand in microgravity. The five-time station resident also attached sensors to himself measuring his cardiac activity for a long-running Roscosmos experiment.
Roscosmos Flight Engineer Konstantin Borisov assisted Kononenko with the cardiac sensor attachments, checked camera hardware, then downloaded monthly radiation detection data. Flight Engineer Nikolai Chub explored how spaceflight conditions such as spacecraft vibrations, electric fields, and magnetic fields affect fluid systems.
---
Learn more about station activities by following the space station blog, @space_station and @ISS_Research on X, as well as the ISS Facebook and ISS Instagram accounts.
Get weekly video highlights at: https://roundupreads.jsc.nasa.gov/videoupdate/
Get the latest from NASA delivered every week. Subscribe here: www.nasa.gov/subscribe