AMERICA NEWS NOW |
A group of North Carolina physicians is calling for a halt to a hospital system's COVID-19 vaccine trial on young children.
The North Carolina Physicians for Freedom (NCPFF) is demanding that the Atrium Health Levine Children's Hospital in Charlotte, North Carolina, cease its Pfizer-BioNTech COVID-19 vaccine testing on children aged 6 months to under 5 years old.
Atrium Health announced its clinical trial study on May 9. It said it would "evaluate safety, tolerability, and immune response to the vaccine among this age group."
"Not only is this completely unnecessary, but it's also toxic," NCPFF co-founder Dianna Lightfoot told The Epoch Times.
According to an NCPFF press release (pdf), healthy children, teenagers, and young adults are at minimal risk of severe complications or death from COVID-19.
Using data from 12 countries, NCPFF reported that 0- to 19-year-olds have a median infection fatality rate (IFR) of 0.0013 percent, comparable to that of recent viruses with above-average severity.
NCPFF said more recent studies show lower IFRs at 0.0005, or one per 2,000 infections, among ages 0 to 9.
Another analysis NCPFF cited reported an IFR of 0.000086, or 0.86 per 10,000 infections among children under the age of 5.
The vaccines have been associated with a much larger number of deaths and adverse reactions in one year than all other childhood vaccines combined in the Vaccine Adverse Event Reporting System co-managed by the Centers for Disease Control and Prevention (CDC) and the Food and Drug Administration (FDA) over the last 31 years, NCPFF said.
"Even this high number of deaths probably under-reports by a factor of 20 to 44, according to two analyses," NCPFF said.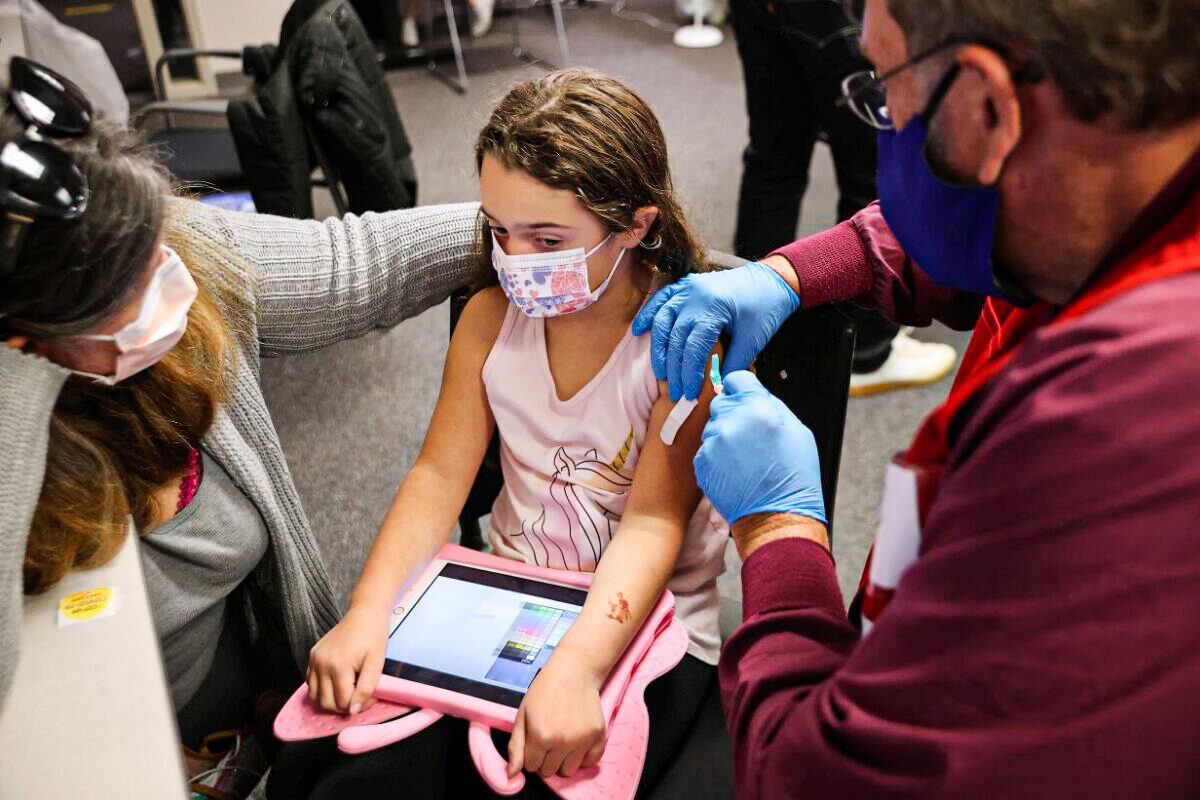 Among adverse reactions that have been reported are myocarditis, an inflammation of the heart that causes the heart muscle to die, blood clots, and severe disability affecting the nervous system, NCPFF said.
NCPFF said the risk of heart complications from the vaccines among boys 12 to 15 years of age "is much higher than the risk they might have to be hospitalized because of COVID-19 itself."
"Heart damage cannot be minimized as rare or mild. All forms of heart damage are serious and in children, the long-term consequences are not known and could be very serious if not fatal," Dr. Peter McCullough, one of the world's leading cardiologists, said in NCPFF's press release.
There has also been an inadequate amount of time to determine long-term vaccine adverse events from the novel mRNA and viral DNA vector vaccines because the adverse events don't show until several years after the introduction of the vaccine, NCPFF said.
NCPFF pointed to a CDC study that said 74.2 percent of children aged 0 to 11 already have natural immunity, which NCPFF said is demonstrated through over 150 studies to give "robust, long-lasting protection" against COVID-19.
"There is no rational argument or empirical data to justify administering these 'warp-speed' developed vaccines to young children who are at near-zero statistical risk for death or serious disease from the virus. To proceed with an experimental COVID vaccine to children is reckless and poses an unacceptable risk-to-benefit profile," s...
North Carolina Physicians Demand End to Hospital's COVID-19 Vaccine Trial on Children