AMERICA NEWS NOW |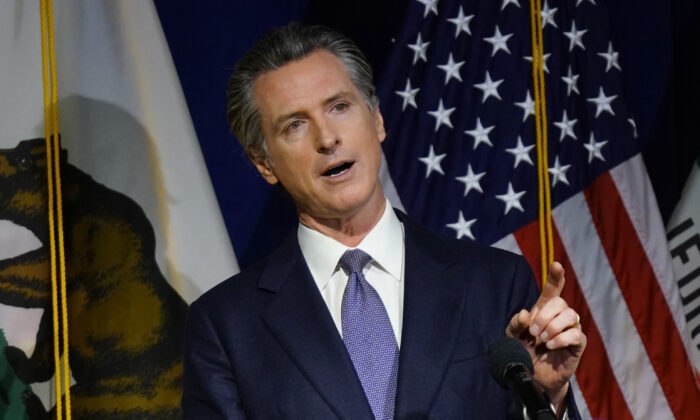 California Gov. Gavin Newsom speaks during a news conference in Sacramento, Calif., on Jan. 10, 2022. (Rich Pedroncelli/AP Photo)
Gov. Gavin Newsom declared his support Aug. 3 for expanding California's film and television tax credit program as a way to lure movie production away from states that restrict or ban abortions.
Newsom said he supported the state's legislature's Senate Bill 485—which would add another $1.65 billion to the tax credit program—extending it through 2030. The program spends $330 billion per year on tax credits for the industry.
"As other states roll back people's rights, California will continue to protect fundamental freedoms for all, and welcome businesses that stand up for their employees," Newsom said. "Extending this program will help ensure California's world-renowned entertainment industry continues to drive economic growth with good jobs and a diverse, inclusive workforce."
Last week, about 400 television creators sent a letter to studio executives demanding protocols to protect employees in states with abortion laws, according to the entertainment magazine Variety.
California Film Commission Executive Director Colleen Bell said the industry has "unique influence" and "unique responsibility."
"Working in and supporting a state that violates basic freedoms is antithetical to the industry's core values," she added. "It's also bad business."
California's film tax credit program was first adopted in 2009 to provide $100 million each year for eight years to feature films and television projects.
The program was replaced in 2014 with an incentive program offering $330 million each year for five years. The government in July 2020 approved an extension until 2025.
The new legislation would extend the program for another five years.
Productions that received the tax credits generated nearly $22 billion in economic output and supported more than 110,000 direct and indirect jobs in the state, according to a report issued in March by the Los Angeles County Economic Development Corporation.
From 2015 to 2020, half of the 312 projects that were turned down for the tax credit program left for other states, the report showed.
The state's nonpartisan Legislative Analyst's Office reported in 2016 that the economic output of the industry generates about 2 percent of California's $2.5 trillion economy or roughly $50 billion annually.