AMERICA NEWS NOW |
WASHINGTON — With prices rising at the fastest rate since 1982, Republicans are clobbering President Joe Biden and Democrats on inflation ahead of this year's midterm elections.
Inflation is a potent political issue because it affects basically everyone ― and Republicans say they saw it coming from a mile away.
"This time last year we tried to tell the Biden administration not to pour trillions of dollars into this economy," Sen. Cindy Hyde-Smith (R-Miss.) said earlier this month.
Republicans warned last year that the American Rescue Plan, the $1.9 trillion stimulus package signed by Biden in March 2021, would jack up inflation.
In the broadest sense, they were right. Inflation is here. And the cash payments and extra unemployment benefits provided by the American Rescue Plan likely contributed, though there's lots of disagreement among economists about how much blame the bill deserves.
Republicans, however, did not predict the chip shortages, logistical bottlenecks nor the shift in consumer spending from services toward physical goods ― key causes of price increases since last year.
So how did Republicans know inflation was coming, and why didn't Democrats listen? Probably because crying about inflation is something Republicans always do, regardless of what is going on, and many past warnings failed to pan out.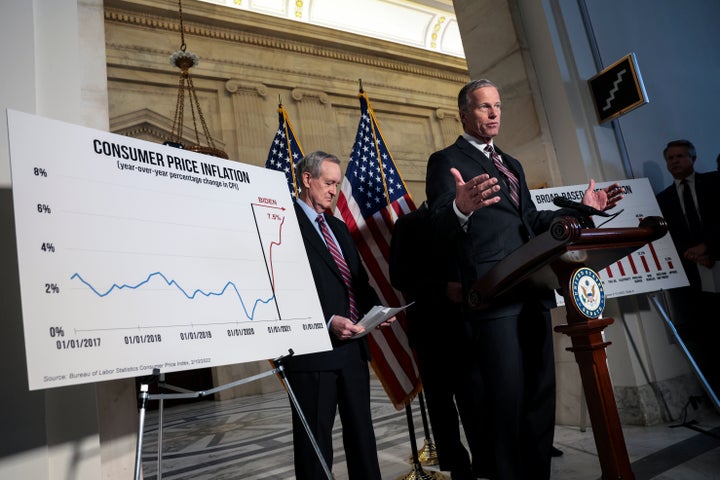 Back in 2009, as the economy slinked out of the Great Recession, many Republicans said an $800 billion stimulus bill would spur a wild rise in prices.
Sen. John McCain (R-Ar...
Like A Broken Clock, Republicans Were Right About Inflation This Time