AMERICA NEWS NOW |
A Texas jury has determined that Alex Jones, host of the show Infowars, must pay $42.5 million in punitive damages in a defamation lawsuit over his false claims that the 2012 Sandy Hook mass shooting was a "hoax."
Jones was not in the courtroom to hear the verdict, which came a day after the same 12-member jury determined that Jones and his company, Free Speech Systems LLC—Infowars' parent company—must pay $4.1 million in compensatory damages in the case, bringing the total Jones was ordered to pay in damages in the lawsuit to $49.3 million.
Federico Andino Reynal, Jones's lead attorney, told the judge immediately after the verdict that he will appeal and ask the courts to drastically reduce the size of the verdict.
Neil Heslin and Scarlett Lewis are separated parents of slain 6-year-old son Jesse Lewis, who perished alongside 19 other children and six adults on Dec. 14, 2012, in the mass shooting at Sandy Hook Elementary School in Newtown, Connecticut.
The parents had sought $150 million in damages in the lawsuit against Jones, Infowars, and Free Speech Systems. Heslin filed the lawsuit in April 2018, suing Jones for defamation and intentional infliction of emotional distress.
Heslin and Lewis had testified on Aug. 4 that people who believed the claims spread by Jones that Sandy Hook was a hoax had harassed them and sent them death threats over the years, in the false belief that they were lying about their son's death.
Compensatory damages are awarded to cover a plaintiff's suffering and losses. Punitive damages are awarded to punish a defendant's actions. A high punitive award in a lawsuit is a way for jurors to send a wider societal message to deter others from similar conduct in the future.
Judge Maya Guerra Gamble presides over the lawsuit in state court in Austin, Texas, where Jones's radio show and webcast Infowars are based. Gamble in September 2021 had issued a rare default judgment in the lawsuit, finding Jones liable for defamation, after he failed to turn over documents and evidence as ordered by the court.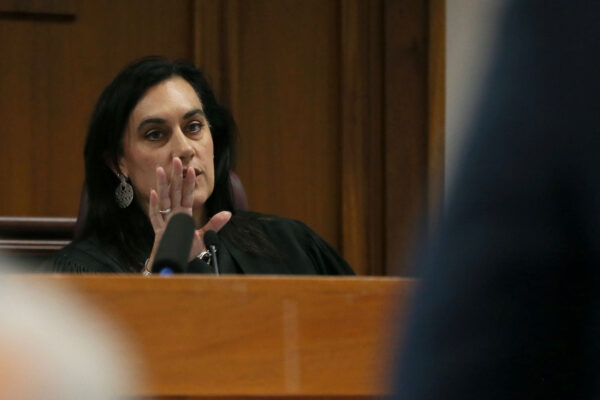 'Speech Is Free; Lies, You Pay For'
Attorneys for Heslin and Lewis had urged jurors to decide on an amount that could force Infowars to shut down.
"You have the ability to stop this man from ever doing it again," Wesley Ball, an attorney for the parents, told the jury on Aug. 5 before they began deliberations on punitive damages. "Send the message to those who desire to do the same: Speech is free. Lies, you pay for."
"We ask that you send a very, very simple message, and that is: stop Alex Jones. Stop the monetization of misinformation and lies," he also said.
Jones conceded during the trial that the Sandy Hook mass shooting was "100 percent real" and told jurors that it was "crazy" of him to repeatedly make the false claims about the shooting. Specifically, he had previously spread the false claim that the mainstream media and gun-control activists worked together to fabricate the mass shooting, and that crisis actors were involved in staging the shooting.
Jones's attorneys asked for lenience and asked jurors to return a punitive amount of $270,000, based on the number of hours Infowars devoted to Sandy Hook coverage.
"You've already sent a message," Reynal told the jurors. "A message for the first time to a talk show host, to all talk show hosts, that their standard of care has to change."
After the hearing, Reynal said he thinks the punitive amount will be reduced to $1.5 million.
"We think the verdict was too high. ...
Jury Orders Alex Jones to Pay $42.5 Million in Punitive Damages in Sandy Hook Trial