Did you know June is National Oceans Month? Beyond packing up your towel, snacks, and umbrella to head to the beach, you could celebrate by diving into career paths that protect, restore, and harness the power of the ocean. These careers span diverse segments of the blue economy—a term defined by the World Bank to encompass the many sectors that support "the sustainable use of ocean resources for economic growth, improved livelihoods, and jobs while preserving the health of ocean ecosystems."
"There are so many different career opportunities out there and all different skills are needed," said Arielle Cardinal, a program manager at the DOE's National Renewable Energy Laboratory. "If you're passionate about the ocean, there is a job for you. You'll find that those who work in an ocean-related career are most likely passionate about it, and willing to share their experiences and advice."
Read on to find your dream job and celebrate Oceans Month every month.
Miguel Quintero is an ocean engineer at the U.S. Navy's Naval Surface Warfare Center's Carderock Division in Maryland, which serves as the Navy's experts for maritime technology. Quintero grew up surfing, and was told that if he became an ocean engineer that he could always be by the ocean. Thanks to that advice, a great career was born.
Quintero collaborated with the DOE is to validate wave energy conversion devices, which harness the power of the waves for energy. Quintero has simulated a wide range of wave energy conversion devices at the Naval Surface Warfare Center's Maneuvering and Seakeeping Basin—a 12-million-gallon indoor ocean with depths ranging from 20 to 35 feet.
"If you like working with your hands and not doing the same thing every day, then being an ocean engineer is a great career path to go," Quintero said in a profile last year. "You get to work pretty much everywhere; you just have to find what you're passionate about and go for it."
John Vavrinec is a marine ecologist at the DOE's Pacific Northwest National Laboratory's Marine and Coastal Research Laboratory. He earned his PhD in Oceanography at the University of Maine and previously worked at National Oceanic and Atmospheric Administration Fisheries in Seattle.
As a marine ecologist, Dr. Vavrinec is the PNNL dive officer in charge of the scientific dive team at the Lab's Marine and Coastal Research Laboratory. These scientists perform a range of studies including substrate (underwater rock layers) assessments and data collection, habitat restoration, underwater sampling, equipment deployment, and underwater videography and photography. His work as a marine ecologist takes him to many places including all around Puget Sound, Washington, and the Columbia River in Florida. He's also traveled to New England, Hawaii, and even Kuwait. Read more about John in his Ocean Month profile from 2020 here.
Policy Analyst
Rukmani Vijayaraghavan works on funding mechanisms to support innovation in water power, including the Office of Energy Efficiency and Renewable Energy's Water Power Technologies Office's Powering the Blue Economy Initiative. She's a trained astrophysicist, with a PhD in Astronomy from the University of Illinois at Urbana-Champaign and worked as a Postdoctoral Fellow at the University of Virginia with the National Science Foundation Astronomy & Astrophysics.
Now, Vigayaraghavan works on shaping the Powering the Blue Economy Initiative to understand the power requirements of emerging coastal and maritime markets and advance technologies that integrate marine renewable energy to relieve power constraints and promote economic growth.
This means she's developing and implementing activities aimed at growing capabilities to connect end users and customers with technological solutions in the blue economy. She also works toward establishing research projects at the national labs to support the development and commercialization of promising technologies. You can read more about this work here.
Communications Specialist
Shannon Bates has an eight-year-old who is obsessed with oceanic facts – good thing for him his mom is a communications partner at Pacific Northwest National Laboratory. Bates started at PNNL as a high school intern and worked her way towards a career in communications. While working at PNNL, she obtained a bachelor degree in Digital Technology and Culture from Washington State University.
As a communications specialist, Bates interfaces with researchers and PNNL leadership, and handles everything from editing their journal articles to amplifying their research on social media. She also supports the Lab by coordinating virtual tours of the Marine and Coastal Research Laboratory and Aquatic Research Laboratory.
"I get to work with divers, oceanographers, fish ecologists, and more," Bates said. "They love what they do—as do I. If your desire is to work in, on, or around the ocean, then you should absolutely do it."
Earth Scientist
Karthik Balaguru is an Earth Scientist at PNNL's Marine Coastal and Research Laboratory. He conducts research in the broad areas of upper-ocean dynamics and climate variability with a particular focus on tropical cyclone-ocean interaction.
Balaguru obtained a bachelors and masters in ocean engineering from the Indian Institute of Technology-Madras. Subsequently, he obtained a Ph.D. in physical oceanography from Texas A&M University. He then joined PNNL as a post-doctoral research associate and continues to work there as a staff scientist. The discovery of the natural world excites him, and Balaguru said he finds his research very satisfying. He's studying how we can improve the understanding and predictability of tropical cyclones, research which could potentially benefit society.
Water Research Technician
Chong Vue's background in electrical and mechanical systems prepared him well for his current job as a water research technician at DOE's National Renewable Energy Laboratory. He develops research data acquisition systems from scratch, in order to collect information for the wind and water power engineering teams at the Lab. These systems are deployed in water buoys, water turbines, or wind turbines. This means he spends time drawing, running tests, tinkering, and even climbing up wind turbines.
Vue went to San Diego Miramar college, and earned an Associate in Science focusing on automotive technology.
"The work I do is important because you have to think about what is more sustainable – not just for the human population, but for Earth," Vue said in a profile last year. "There's energy all around us. We just need to harvest it, and this is the start."
Arielle Cardinal works at the DOE's National Renewable Energy Laboratory, in their Water Power Program. As a Program Manager, she's responsible for overseeing and coordinating the planning, management, execution, and reporting of all work associated with the Water Power Program at NREL. Cardinal also manages the Marine Energy Collegiate Competition, a major STEM outreach effort of the Department of Energy.
What is it like to work as a program manager in the ocean sector? For Cardinal, she keeps busy managing a portfolio of approximately 60 projects totaling $45 Million annually by overseeing and coordinating the planning, execution, and reporting of all work associated with the NREL Water Power Program. She analyzes budget data, prepares project plans, tracks project deliverables, plans project budgets, compiles quarterly reports, and resolves resource conflicts – all in a day's work! Read more about Arielle here.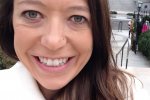 AnneMarie Horowitz has been with the Energy Department since 2009, and is the Director of STEM Rising, a priority Departmental initiative to highlight the science, technology, engineering, and mathematics (STEM) programs and resources of the agency.