The United States celebrates Hispanic Heritage Month from September 15 – October 15, starting on the anniversary of independence for Costa Rica, El Salvador, Guatemala, Honduras, and Nicaragua, and carrying on through the anniversary of Mexico and Chile's independence on September 16 and September 18 respectively, and Día de la Raza on October 12. The past, present, and future of America is interwoven with Hispanic Americans and their culture. Here are a few stories of Hispanic Americans shaping the U.S. Department of Energy.
Dr. Beatriz Cuartas, Deputy Federal Program Manager, National Graduate Fellowship Program, NNSA
Dr. Beatriz Cuartas is an expert on living a good life. Literally. She's done extensive life quality and well-being research at George Washington University and George Mason University, authored academic papers on the topic, and has collaborated with the Ecuadorian Embassy to build an indicator for the country to measure "buen vivir", living well, on weighing human rights along with environmental health for the country.
Now as co-Chair of the Community for the Advancement of Latinos @ DOE, Dr. Cuartas brings her research on quality of life to DOE's Hispanic employees and contractors, striving to make an inclusive, supportive work environment that boosts the numbers of Latinx individuals at the agency and as participants in the agency's student programs – an effort that's showing results. During her tenure as manager of the National Nuclear Security Administration's National Graduate Fellowship Program (NGFP), the program has seen a 63 percent growth in Hispanic participation.
Dr. Cuartas moved to the United States from Bucaramanga, Colombia, known as the city of parks in the Andes mountains, when she was 15 years old. She feels that hope is embedded in her cultural DNA, energizing her in the work of the employee resource group and in her day-job. "Through my veins runs a river of the bloods of all our ancestral people," Dr. Cuartas shared. "I believe soon all humans will go in togetherness and harmony with the planet as one. As such, we will manifest the Suma Qamaña, and we shall all enjoy the rights of the good way of living."
Fedrico Peña - Former Secretary of Energy
The 1990s were a busy time for Fedrico Peña - he served in two Cabinet positions, first from 1993 – 1997 as the Secretary of Transportation, next as the Secretary of Energy from 1997 – 1998.
Hailing from Texas on the U.S. - Mexico border, Peña's ancestors came from Mexico. Peña earned his law degree and then moved to Colorado to become a practicing attorney and politician, serving as the Minority Leader in the Colorado House of Representatives before moving on to become the first Hispanic mayor of Denver in 1983. He was widely celebrated for bringing the Colorado Rockies to the city during his tenure. Peña began advising then-Governor Bill Clinton on transportation issues during his transition, leading to becoming the highest-ranking Hispanic in the Administration.
As Secretary of Energy, Peña oversaw the largest privatization in the history of the U.S. government with the $3.6 billion sale of the Naval Petroleum Reserve No. 1, all while developing the Administration's Comprehensive National Energy Strategy and leading over 10,000 federal employees and having three children under 7 years old at home.
"The work of this Department is vital, and I am enthusiastic about meeting the challenges and seizing the opportunities before us," Peña testified to the U.S. Senate's Committee on Energy and Natural Resources.
After leaving DOE, Peña returned to Colorado to continue his career in the private sector.
Julian Leal, Contract Specialist, Office of Science
If you work at the Department of Energy, you know how integral contract specialists are to the daily operations of the agency. These specialists are experts in the intricate budget and contracting processes that government demands, having undergone extensive training. Julian Leal is one of those experts that DOE has on hand, with 13 years of service at the agency.
Leal works at DOE's Office of Science Consolidated Service Center.
"I love being a Contract Specialist at DOE and helping small businesses, universities, and other federal agencies in our strategic goals including energy independence," Leal shared. "What fills me with hope is the expansion of opportunities for Hispanics to achieve parity with the civilian labor force within the Department of Energy."
Both of Leal's parents' families for several generations lived in the Rio Grande Valley of lower Texas that was once part of Mexico. Leal has four children, aged 25-19. "My Hispanic heritage is filled with our family legacy of passion for the work that we do, always striving to accomplish more than what is expected of us, and the importance of always being helpful to others," he said. "Each year I reflect on what Hispanics have accomplished and the challenges that we still face in order to improve upon our standing and contribution to our country, this great diverse American society."
Frances Gomez Quintana, Administrative Support at Los Alamos, Manhattan Project
Being the oldest of seven children in small town El Rancho, New Mexico, meant that Frances Gomez Quintana had a lot of babysitting time on her hands. Little did she know that this would be her foot in the door to the top-secret Atomic Bomb project at Los Alamos in New Mexico.
Gomez Quintana's family was originally from Spain on her father's side, and her father and mother were caretakers of a large ranch. Gomez Quintana stopped school in seventh grade to help out with her siblings, and then had to evacuate her hometown when the government took it over during WWII for the Manhattan Project, leaving all their belongings besides their clothing behind. She began babysitting for a little girl named Julie, daughter of the assistant to the head of Los Alamos Robert Oppenheimer, David Hawkins, and his wife Frances.
Soon, Gomez Quintana was taking Julie over to the Oppenheimers' house for playdates, living with the Hawkins, and helping with household chores like preparing them Spanish-style dinners and sewing. Later on, her boss helped her get a job at Los Alamos in Administrative support in the mailroom, where Gomez Quintana stayed on for the next 35 years, supplemented by cleaning homes including for the Oppenheimers.
"I used to work a lot with secrets when I got this job inside the fence," Gomez Quintana said of her experience in the mailroom. "First they put me with unclassified material, and then little by little, confidential, secret, top secret. I worked with all those."
Get more details from Gomez Quintana's experience by listening to her interview with the Atomic Heritage Foundation.
Edward Rios, Commercialization Executive, Office of Technology Transitions
Growing up with parents who immigrated from Bolivia, Edward Rios had a childhood filled with conversation about their family's Hispanic Heritage but he didn't see that conversation happening outside of his household.
"When I hear about Hispanic achievement or history during Hispanic Heritage Month," said Rios, "it still seems new and exciting. It's a great way to celebrate the contributions of people that really weren't recognized before. Most of all, it's a way to inspire all of us with the sacrifice, perseverance, and joy that many Hispanics possess in making our wonderful country a better place for all."
Rios is now a Commercialization Executive in the Office of Technology Transitions at the Department of Energy, specializing in working with companies and individuals in the hydrogen and nuclear sectors who are seeking DOE's assistance with their commercialization efforts. Rios is also the office's lead on STEM outreach, interfacing with Universities to build their relationships with the agency. He started his career, however, as an engineer working in chemicals and manufacturing facilities located throughout his home state of Florida and then moving into a technical consultant role with the government at DOE and the Department of Interior.
Rios often reflects on the path his parents took in life, arriving in a country that "is very culturally different" to raise three kids and work "while overcoming many obstacles along the way," he shared. "This history gives me a unique perspective on life and has served as a reminder that anything is possible." Now is the time to celebrate all Hispanic families "with fanfare" Rios says.
During his time at DOE, Rios has been a proud and active member of the Community for the Advancement of Latinos at DOE.
Fredy Rabanales, Technician at Princeton Plasma Physics Laboratory
Adjusting to a completely foreign language and culture isn't easy for anyone, and Fredy Rabanales had to make this leap when he was just six years old, after he moved from Guatemala where he was born to New Jersey. His parents and Rabanales welcomed his brother and two sisters to the family after they were settled in the United States, and Rabanales and his family grew up seeped in Guatemalan heritage.
"It's nice to learn about where you come from," Rabanales shared with DOE's Princeton Plasma Physics Laboratory in a recent profile article. "I talk to my grandparents about what they've been through, and they tell me about different histories about when they were growing up.... So that's something that I think Hispanic heritage is all about, learning new things, reading new things. I went to Guatemala two years ago with my parents."
Rabanales is a technician for the Lab, and does maintenance on the Lithium Tokamak Experiment, an experimental fusion machine that studies pure lithium metal on surfaces facing or contacting plasma. He does a range of jobs from fixing the machine's pumps, changing its components as experiments require, and routine maintenance. For Rabanales, working at the Lab means a lot.
"For my kids and grandparents, it means I came here for a purpose. They brought me here for a purpose. It's a good place to be," Rabanales said.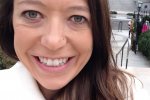 AnneMarie Horowitz has been with the Energy Department since 2009, and is the Director of STEM Rising, a priority Departmental initiative to highlight the science, technology, engineering, and mathematics (STEM) programs and resources of the agency.