AMERICA NEWS NOW |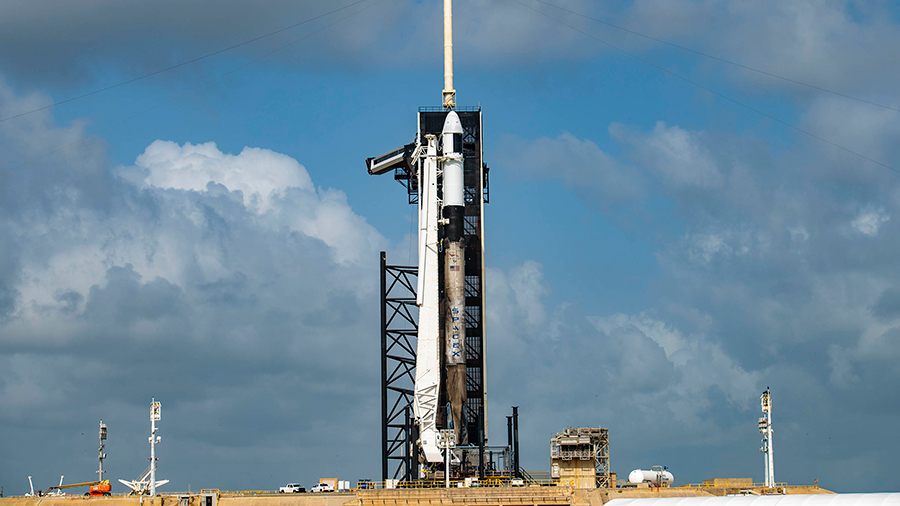 The SpaceX Cargo Dragon vehicle is standing at the launch pad counting down to its weekend mission to the International Space Station. Meanwhile, the Expedition 65 crew focused on robotics and biology while gearing up for a pair of Russian spacewalks.
The Falcon 9 rocket from SpaceX with the Cargo Dragon spacecraft atop is standing vertical at its launch pad at the Kennedy Space Center in Florida today. It is scheduled to launch on Saturday at 3:37 a.m. EDT and arrive at the station on Sunday for an autonomous docking at 11 a.m. Flight Engineers Megan McArthur and Thomas Pesquet will be on duty Sunday morning monitoring Dragon's rendezvous and docking to the Harmony module's forward international docking adapter. NASA TV will broadcast both launch and docking events live.
The two astronauts spent Thursday morning on science, however, working on the Myotones study observing the biochemical properties of muscles in space. The duo took turns marking and measuring their leg and arm muscles to better understand how weightlessness affects muscle tone, stiffness, and elasticity.
A pair of cube-shaped, toaster-sized Astrobee free-flying robotic helpers were turned on today for a mobility test inside the Kibo laboratory module. Commander Akihiko Hoshide activated the devices Thursday afternoon to test their ability to dynamically pass objects, such as cargo, to each other or a science rack robotic arm.
Flight Engineer Shane Kimbrough spent the day working inside the U.S. Quest airlock. He was assembling and installing a new stowage platform inside the module where spacewalks in U.S. spacesuits are staged.
The next two spacewalks taking place on the station will occur on Sept. 3 and 9. Cosmonauts Oleg Novitskiy and Pyotr Dubrov are preparing for both spacewalks readying their Orlan spacesuits and tools inside the Poisk module. The duo will be exiting Poisk to configure the Nauka Multipurpose Laboratory Module for upcoming science operations.