AMERICA NEWS NOW |
Health officials have been making headlines in the news for their recent comments that seem to be reversing previous COVID-19 public health messages.
Both Dr. Anthony Fauci, director of the National Institute of Allergy and Infectious Diseases (NIAID) and former White House COVID-19 advisor Dr. Deborah Birx, admitted that the COVID-19 vaccines are not particularly capable at preventing infection, reversing previous COVID-19 narratives that asserted the vaccine prevented disease acquisition and transmission.
Birx said on Fox News July 22, that she "knew these vaccines were not going to protect against infection…I think we overplayed the vaccines."
This is a significant fallback considering that she promoted Moderna and Pfizer COVID-19 vaccines when both were granted emergency use authorization in late 2020.
"This is one of the most highly-effective vaccines we have in our infectious disease arsenal. And so that's why I'm very enthusiastic about the vaccine," Birx said on an ABC podcast at the time.
On that podcast, she made no mention of concerns the vaccines might not protect against infection.
Fauci and Birx also made statements showing their "open" minds regarding a laboratory leak as a possible explanation for the original source of the SARS-CoV-2 virus.
It appears that the messaging around COVID-19 health policies is opening up, or is it?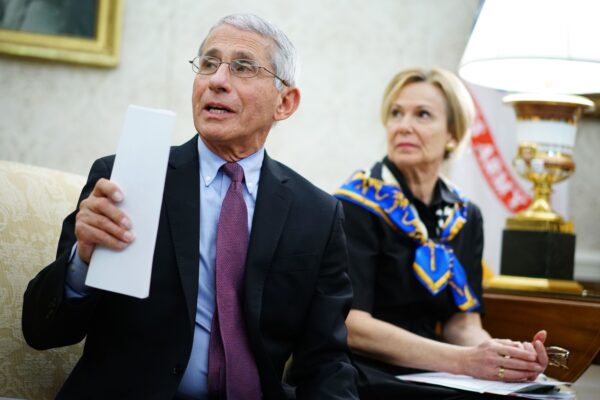 Changing Narrative Around COVID-19 Vaccines
Public health messaging regarding effectiveness of the COVID-19 vaccines has shifted throughout the two years of the pandemic.
"I think the whole COVID-19 vaccine program was over promised and it was too broadly applied. No vaccine against respiratory illness has been very effective in the history of medicine," Dr. Peter McCullough, cardiologist and co-author of The Courage to Face COVID-19 told The Epoch Times during a phone call.
He reasoned that the reversals by Fauci and Birx were to negate the broad claims health officials made at the start of the pandemic.
McCullough said that there were three major false claims in the overall COVID-19 vaccine narrative.
"The first claim was that the vaccine would stop the virus and people wouldn't get sick if they got the virus. That's never happened with an influenza vaccine or pneumococcal vaccine," McCullough said.
Even the American President Joe Biden claimed that the vaccine stopped people from getting COVID-19. His comments were later fact-checked by the Associated Press for exaggeration.
"The next false claim is that the vaccines wouldn't stop transmission," said McCullough.
In a statement released on March 2021, a few months after the initial vaccine rollout, the Centers for Disease Control and Prevention (CDC) stated that the vaccina...
Are Health Officials Backtracking on COVID-19 Narratives?